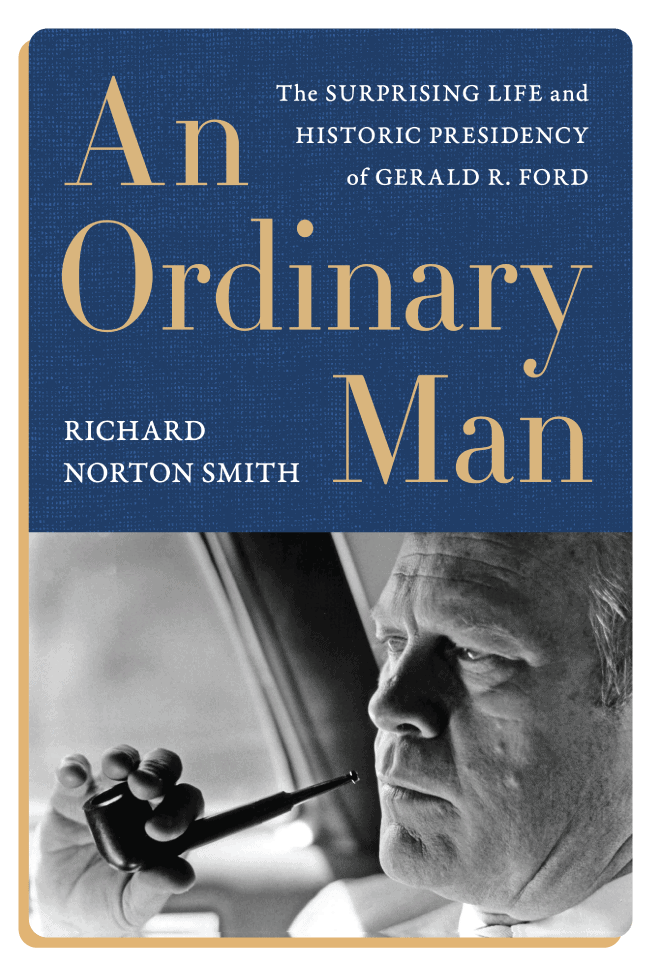 A decade in the making, based on hundreds of interviews and thousands of documents, this is the definitive life of America's 38th president. Full of surprises, historical revelations, and intimate details from the Warren Commission to Watergate to the Nixon pardon, the fall of Saigon, and the epic Ford-Reagan battle for the soul of the GOP… a gripping narrative that's sure to invite a reappraisal of the "accidental" president whose decency and decisiveness look better and better with the passage of time.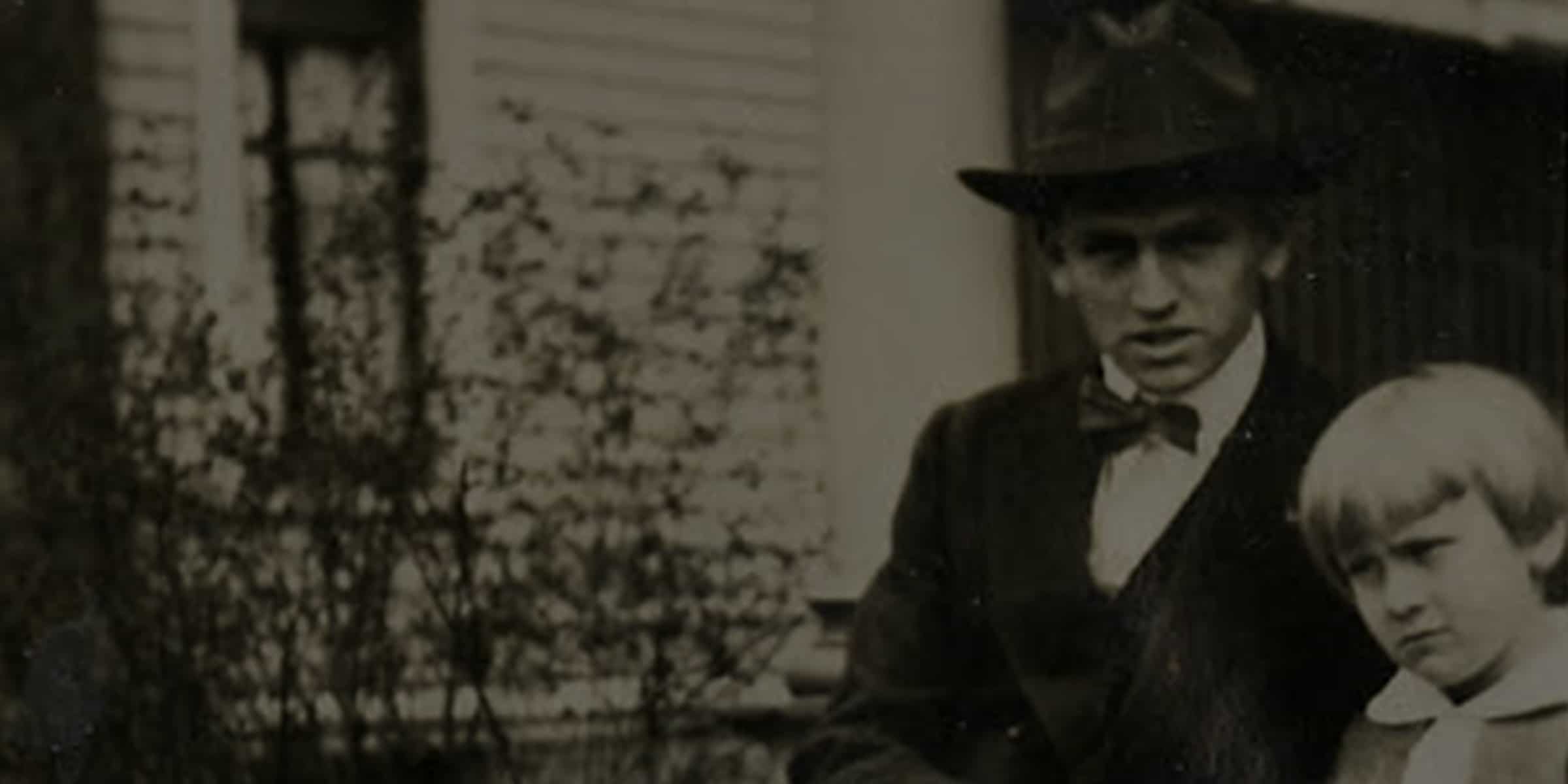 "So few people knew that I was not Jerry Ford's son in Grand Rapids … and we sure never talked about it in our house."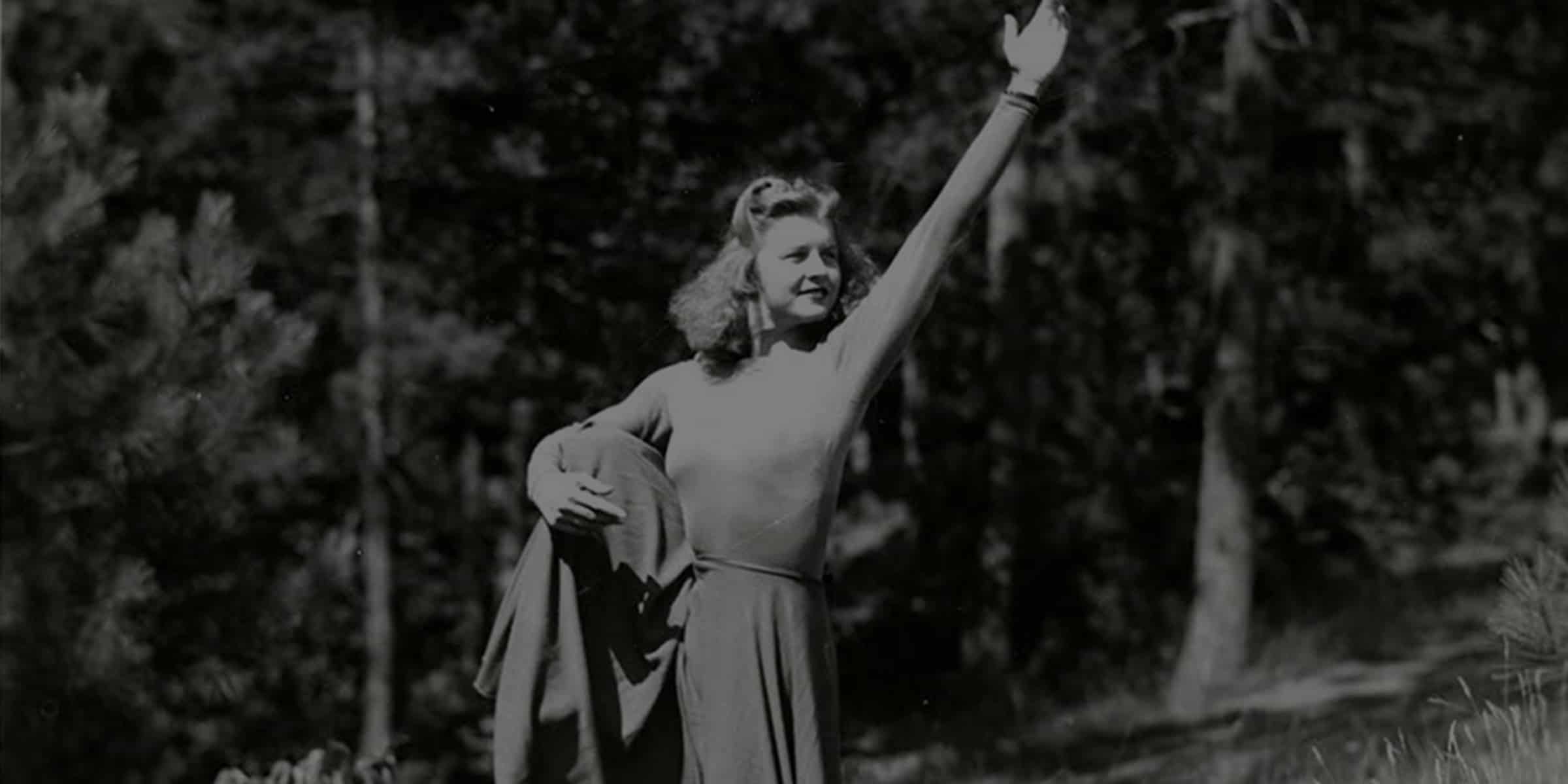 "Dancing is discovery, discovery, discovery" - Martha Graham, credited by her student, Betty Ford, as one of the three most influential women in her life (the others her mother and Eleanor Roosevelt).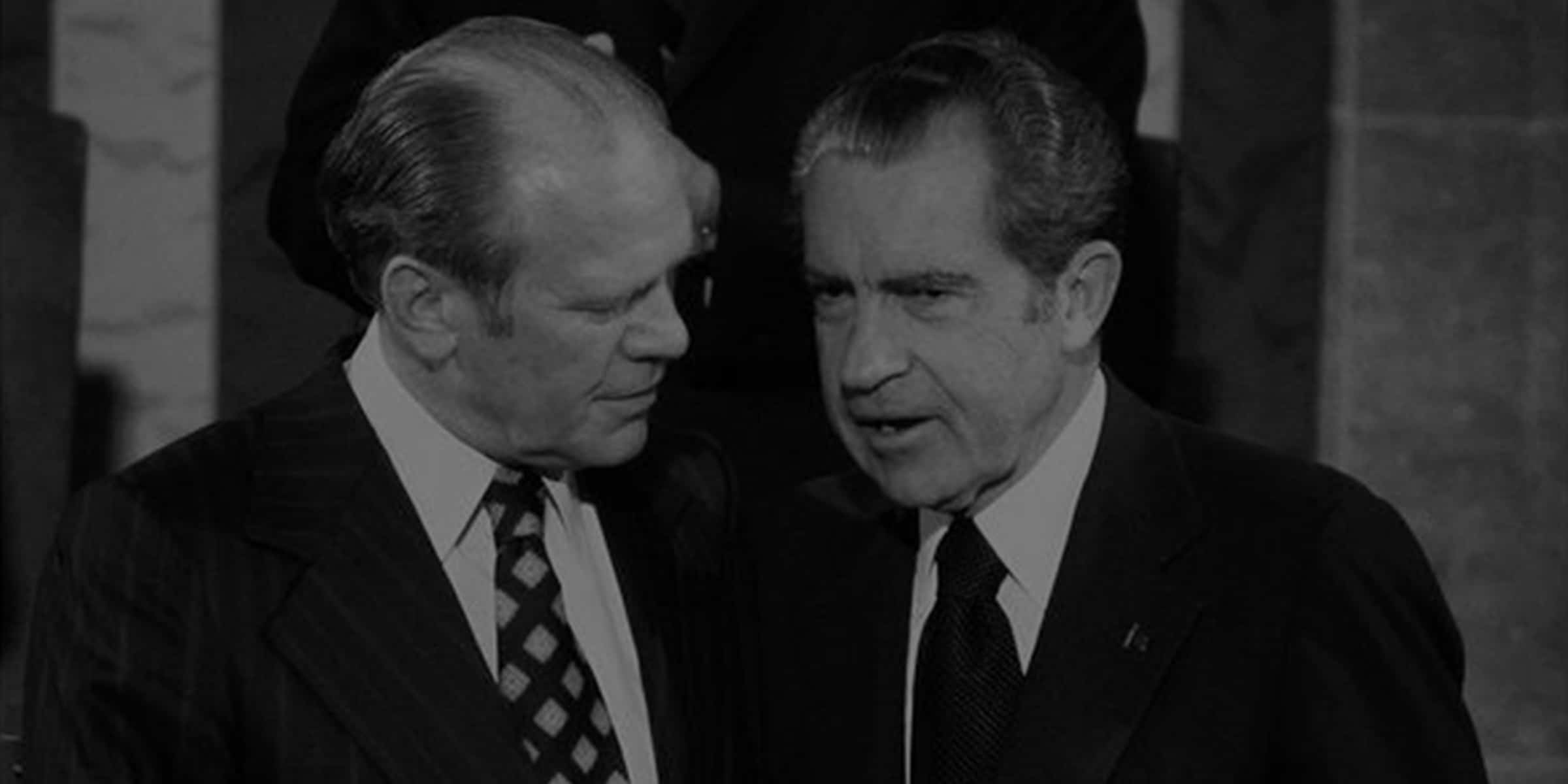 "Don't ever tell me again what a nice goddamn guy Jerry Ford is" So observed a bitterly disappointed Republican House Leader in January, 1965, after "good old Jerry" ousted him in a closed door cliffhanger.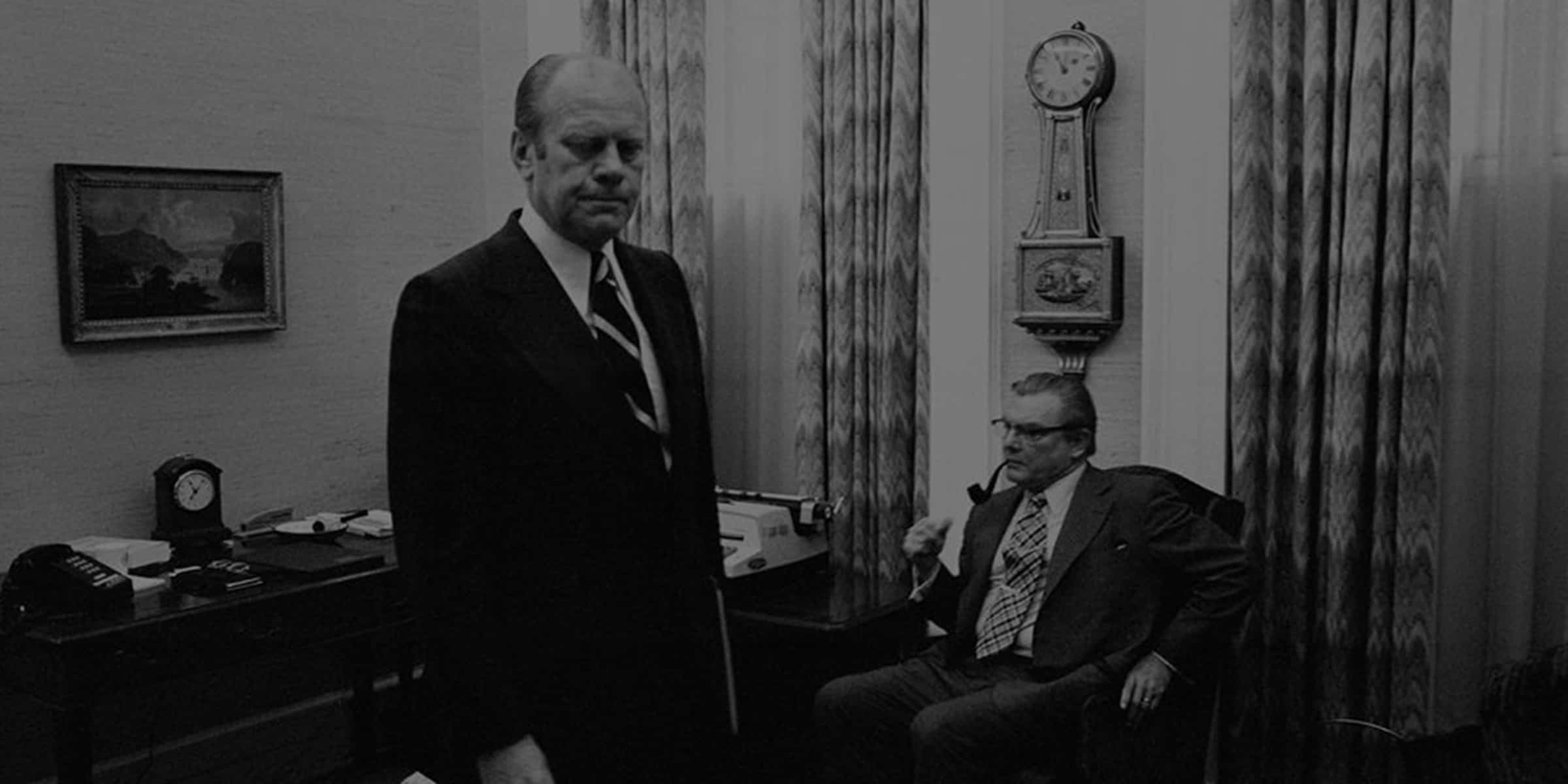 "You can't pull a bandage off slowly" Ford said in defending his controversial pardon of Richard Nixon. Here, accompanied by presidential speechwriter Bob Hartmann, the look on Ford's face says it all. It is moments away from his Sunday morning bombshell that led journalist Carl Bernstein to inform his Watergate partner, Bob Woodward,"The sonofabitch just pardoned the sonofabitch".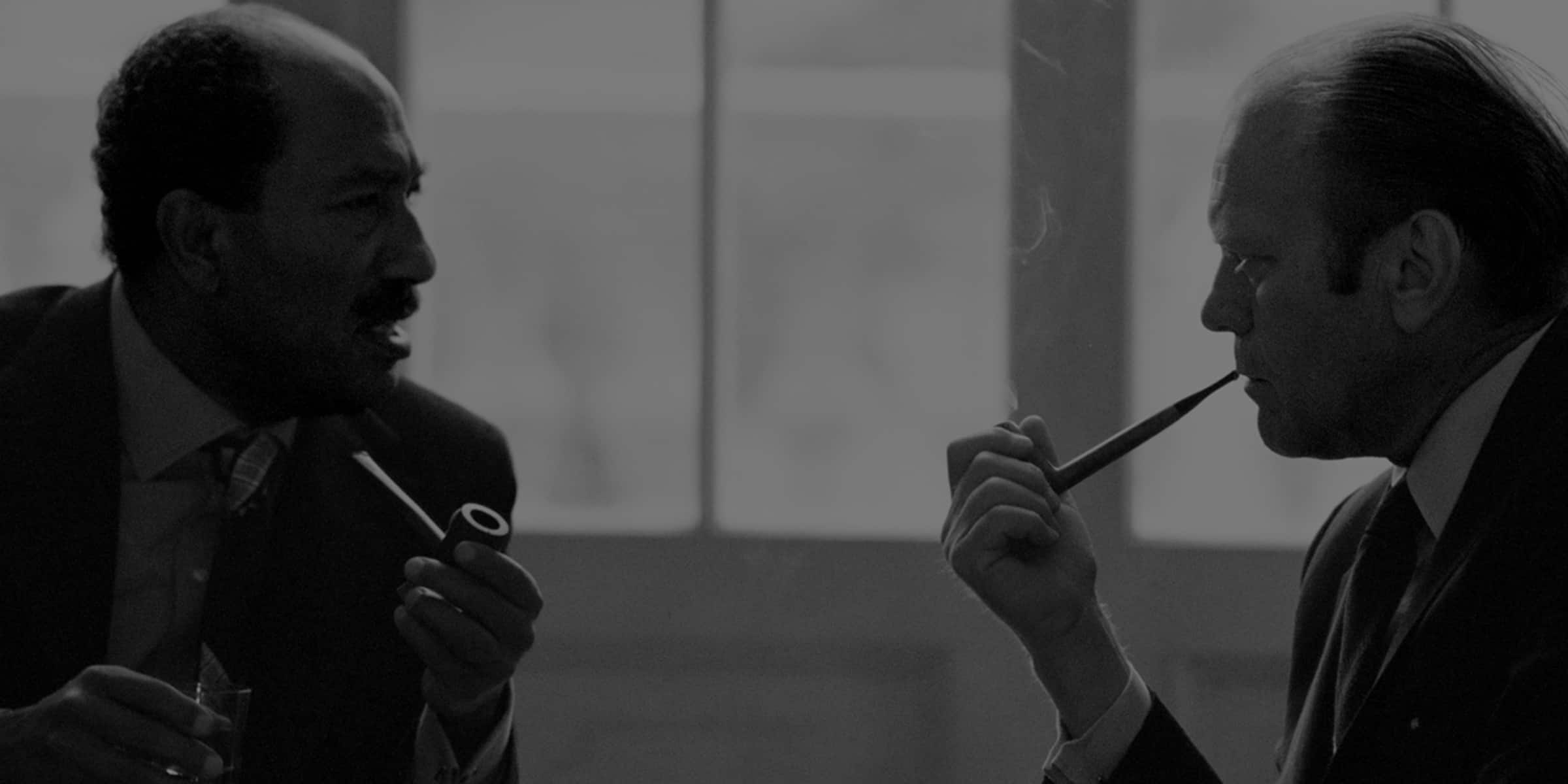 "The type of man I could establish a great rapport with" Ford spoke the truth regarding Egyptian president Anwar Sadat, shown here during their first meeting in June, 1975. Their mutual trust led to the Sinai II agreement, separating Egyptian and Israeli forces and foreshadowing the landmark Camp David Accords brokered three years later by President Jimmy Carter.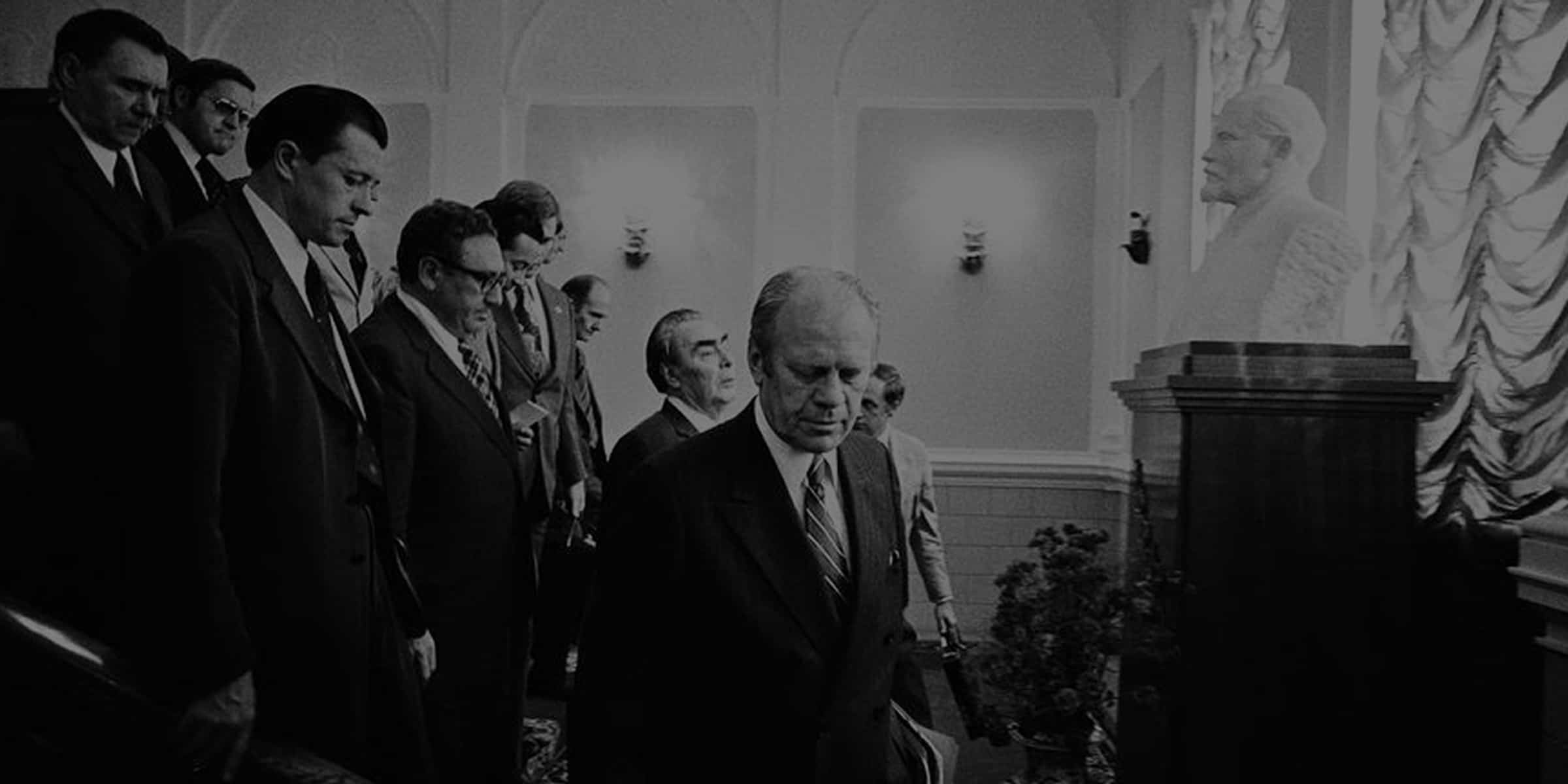 Ford and Soviet premier Leonid Brezhnev failed to conclude an arms control deal when they met at Helsinki in August, 1975. But they achieved something even more important… rejecting harsh criticism from right and left, Ford signed the Helsinki Accords, seen today as a major milestone on the road to human rights and the eventual collapse of the Soviet Union.
"It is a little startling to look down to shake hands and you see a hand with a gun in it… Say a little prayer and the Lord will take care of you". So Ford described his encounter with Lynette "Squeaky" Fromme, a disciple of mass murderer Charles Manson, outside the California State Capitol in Sacremento on the morning of September 5, 1975.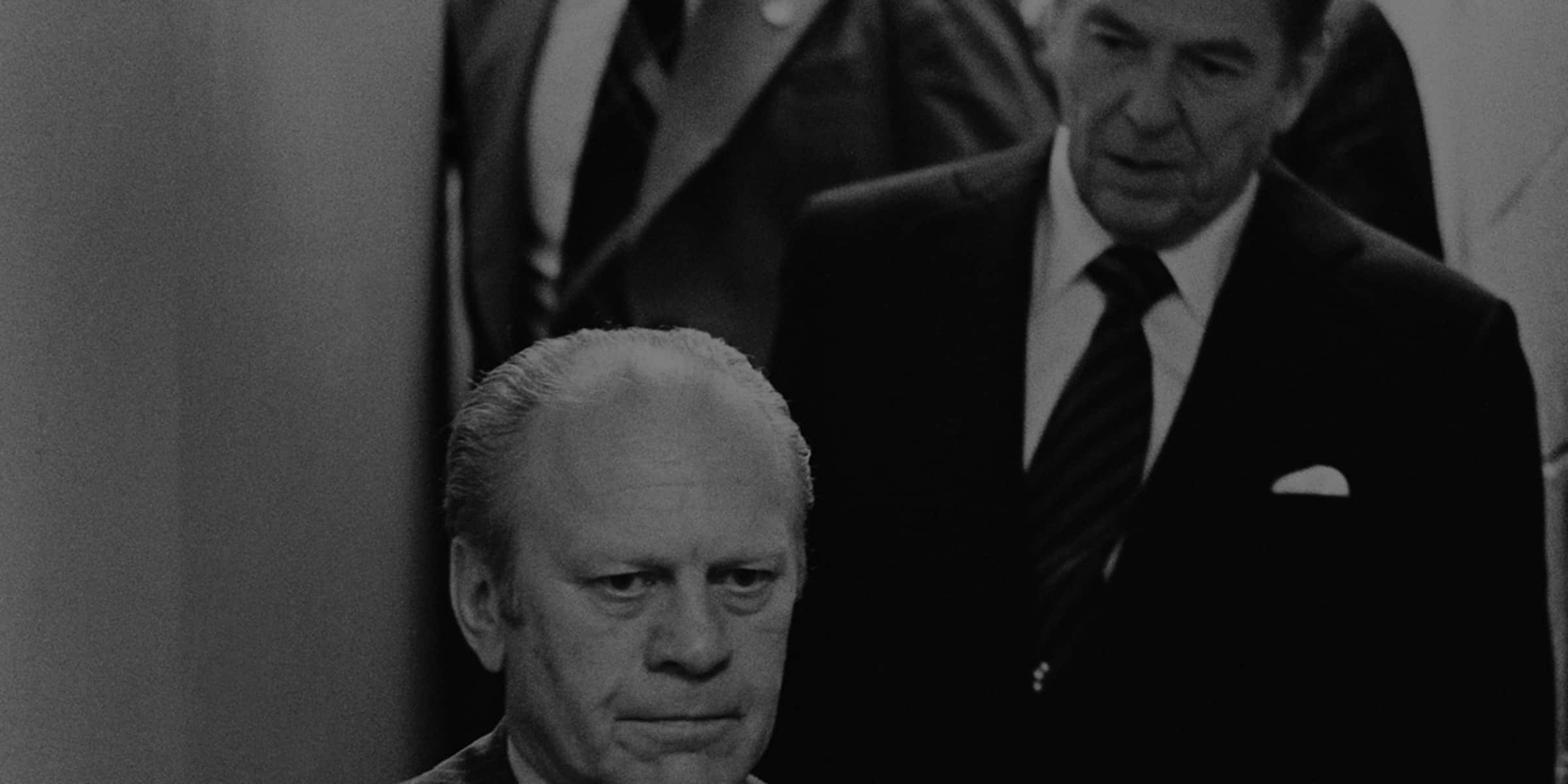 The facial expressions say it all… as Ford and his rival for Republican hearts, Ronald Reagan, emerge from a post-midnight "unity meeting" following Ford's narrow first ballot victory over Reagan at their party's Kansas City convention in August, 1976. Relations between the two men wouldn't get much better between then and Election Day.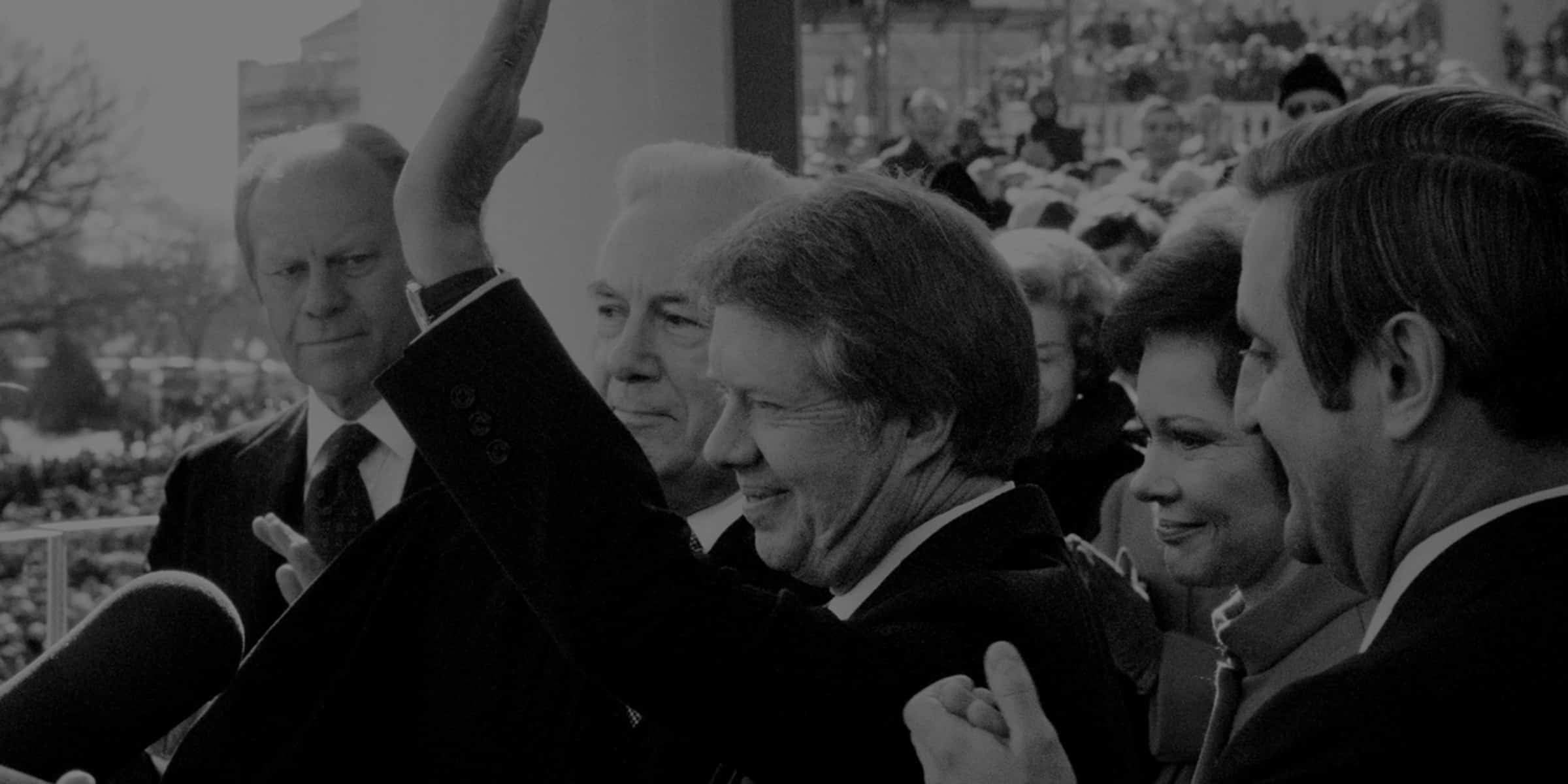 Few would have imagined it on the morning of January 20,1977, but onetime rivals Ford and Carter would become close friends, their post-White House relationship unmatched since the autumnal reconciliation of John Adams and Thomas Jefferson.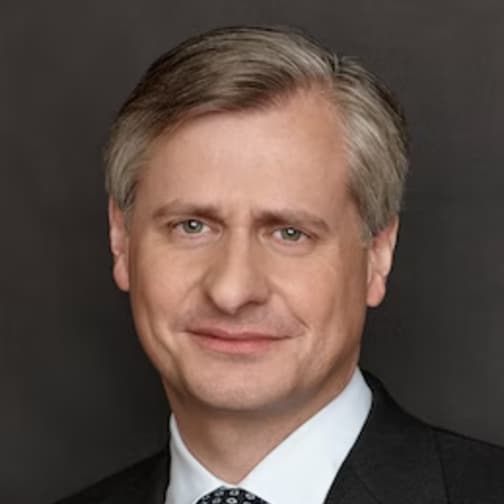 John Meacham
"Richard Norton Smith had brought a lifetime of wisdom, insight, and storytelling verve to the life of a consequential president—Gerald R. Ford. Ford's is a very American life, and Smith has charted its vicissitudes and import with great grace and illuminating perspective. A marvelous achievement!"
John is a Pulitzer Prize-winning biographer, author of the New York Times bestsellers Thomas Jefferson: The Art of Power, American Lion: Andrew Jackson in the White House, Franklin and Winston, and Destiny and Power: The American Odyssey of George Herbert Walker Bush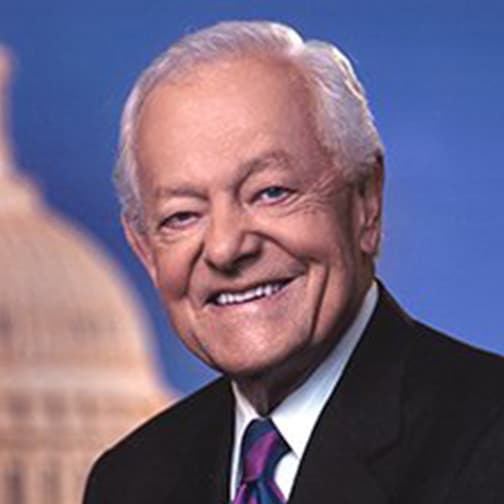 Bob Schieffer
"Gerald Ford is probably remembered more for how he got to the presidency than for what he did there. In this brilliant book, Richard Norton Smith tells the rest of the story. On every other page I found something I didn't know, bringing new and important insights into how Ford kept the nation together and moved it past its most severe political crisis since the Civil War. It will become the definitive work on Ford and his presidency.!"
Journalist & Anchor, CBS News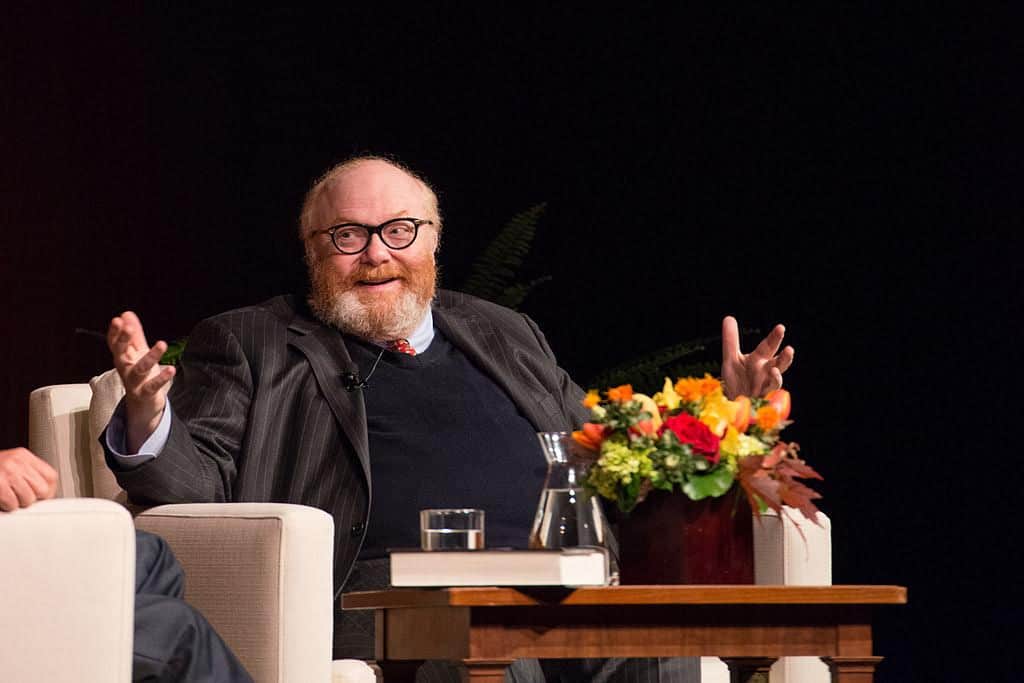 Richard Norton Smith is a nationally recognized authority on the American presidency and a familiar face to viewers of C-SPAN, as well as The NewsHour with Jim Lehrer. Following graduation from Harvard in 1975, he worked as a White House intern and a speech writer for Massachusetts Senator Edward Brooke. In 1979 he went to work for Senator Bob Dole, with whom he collaborated on several volumes of autobiography and political humor.
Smith's first major book, Thomas E. Dewey and His Times, was a finalist for the 1983 Pulitzer Prize. He has also written An Uncommon Man: The Triumph of Herbert Hoover (1984), The Harvard Century: The Making of a University to a Nation (1986), Patriarch: George Washington and the New American Nation (1993), The Colonel: The Life and Legend of Robert R. McCormick, which received the prestigious Goldsmith Prize awarded by Harvard's John F. Kennedy School, and has been described by Hilton Kramer as "the best book ever written about the press." In October 2014 Random House published On His Own Terms, a monumental life of Nelson Rockefeller described by Douglas Brinkley as "one of the greatest cradle to grave biographies written in the past 50 years," and tagged in advance by Amazon as one of the fall's Twenty Big Books in Biography and Memoir.
Between 1987 and 2001, Mr. Smith served as Director of the Herbert Hoover Presidential Library and Museum in West Branch, Iowa; the Dwight D. Eisenhower Center in Abilene, Kansas; the Ronald Reagan Presidential Library and the Ronald Reagan Presidential Foundation and the Reagan Center for Public Affairs in Simi Valley, California; the Gerald R. Ford Museum and Library in Grand Rapids and Ann Arbor, Michigan respectively.
In December, 2001 Mr. Smith became director of the new Robert J. Dole Institute of Politics at the University of Kansas in Lawrence. There he supervised construction of the Institute's $11.3 million permanent home and launched a Presidential Lecture Series and other high profile programs. In October, 2003 he was appointed the first Executive Director of the Abraham Lincoln Presidential Library and Museum, a four building complex in Springfield, Illinois. The Library opened to the public in 2004 and the Museum opened the next year.
Much in demand as a speaker, in 2009 Smith was invited by Congress to be one of two historians addressing it on the two hundred anniversary of Abraham Lincoln's birth. Earlier, millions of television viewers heard him deliver the final eulogy at Gerald Ford's Michigan funeral, a role he repeated at Betty Ford's request when she was laid to rest beside her husband in 2011. Twice a year he personally leads historical tours (www.presidentsandpatriots.com) emphasizing American presidents and history rarely found in the text books.
Whether you're newly single or, perhaps, your companion just isn't into history as much as you are, solo travelers will find our tours fun and enjoyable, all while discovering new places and meeting new friends. And don't feel like you'd be the odd one out... our tours are comprised of roughly half doubles and half singles. As an added service, should you wish to be matched with another solo traveler, we will be more than happy to try to find you a roommate.
GREAT PEOPLE
Join "the Club"
Our deluxe motor coach tours are designed with your comfort and enjoyment in mind, and our small group setting creates a much more intimate, personal setting when compared with other tours who attempt to fill their motor coaches to capacity. In fact, many of our guests are repeat participants (more than 90 of our guests have joined us on six or more tours!). This, combined with a shared interest in the history being experienced, makes for an unusually relaxed, fun and friendly atmosphere. As a result, many of our patrons have begun calling us "their Travel Club".
Our host, Richard Norton Smith, was C-SPAN's in-house historian, where he was responsible for such long form series as Presidential Libraries: History Uncovered, The Contenders, and Influence and Image: America's First Ladies. C-SPAN viewers may have seen one or more of our tours featured over the past several years. C-SPAN has been along with us on several past trips, and has broadcast segments on their history channel, C-SPAN 3.
SEPT & OCT 2023


Featured Tour
SEPT & OCT 2023 |Eight Presidents, Autumn Foliage, And Olana:

The Best Art And History Of New England, The Hudson Valley, And New York City


The Best of the Best!

---
For over twenty years now, we've been introducing travelers to the riches of the American past. No destination has been more popular than autumn foliage time in New England and New York's Hudson Valley. In October, 2023 we will return to this cradle of the American republic, with an entirely new itinerary. Besides a handful of perennial favorites like the Adams sites in Quincy, Massachusetts and Calvin Coolidge's rustic Plymouth Notch, Vermont – this year commemorating the 100th anniversary of his lamplit inauguration in the simple Coolidge homestead – we're including three previously unvisited presidential birthplaces; the Revolutionary War battleground on Boston's famed Bunker Hill; a first time visit to the colonial home of American patriot and Founding Father Paul Revere; a tour of Albany's sprawling State Capitol building, the most sumptuous seat of government in America; a full day's sampling of Vermont's agricultural and environmental history in and around picturesque Woodstock; a picnic on New York City's Little Island; and a visit to Federal Hall, birthplace of the American presidency.
Explore America's heritage.
Adding to the trip's WOW factor: three remarkable homes and museums associated with as many pioneering artists and collectors…Boston's Italian palazzo built to house the Old Masters and antiquities assembled by Isabella Stewart Gardner; landscape artist Frederic Church's Olana, a 250 acre landscaped estate and palatial home overlooking the Hudson River; and The Cloisters, a medieval complex showcasing the priceless tapestries and religious art collected by John D. Rockefeller, Jr.
With first-class hotels, meals to match, and the incomparable landscapes of autumnal New England and the Hudson Valley – it's no exaggeration that this nine-day tour, twenty years in the making, is called The Best of the Best.
SEPT 2021 MAY 2022 | A THOUSAND YEARS OF SCOTLAND
History, Heather & Highlands

---
THIS TRIP HAS BEEN MOVED TO MAY 2022 DUE TO TRAVEL COMPLICATIONS FROM COVID | STAY UP-TO-DATE
Join us this September May 2022 for a memorable trip to some of the most beautiful – and historic – country this side of Brigadoon. Starting with two nights in the majestic English Lake District, with its brooding landscapes and literary shrines to poet William Wordsworth and Beatrix Potter, best known for The Tales of Peter Rabbit. En route to Edinburgh, our home for six nights, we'll pause in the village of Lockerbie to pay our respects to the victims of Pan Am Flight 103, lost to a terrorist bomb in December 1988.
A wonderful adventure for all ages.
Our Edinburgh home is the Kimpton Charlotte Square, taking its name from the adjacent World Heritage Site and ideally located next to picturesque Old Town. Our itinerary includes a day in the Scottish Highlands, a walking tour of the Old Course at St. Andrews, birthplace of golf, and Glamis Castle, girlhood home of the late Queen Mother. Edinburgh Castle beckons, along with Holyrood House, St. Giles Cathedral and the multi-media extravaganza called Dynamic Earth. We've set aside half a day to explore the Royal Yacht Britannia. And another half to tour Scotland's capital on your own. Visit an art museum or shop the Royal Mile. If you have been to Scotland before, we'll take you places you haven't been. And introduce you to a history you cannot beat.